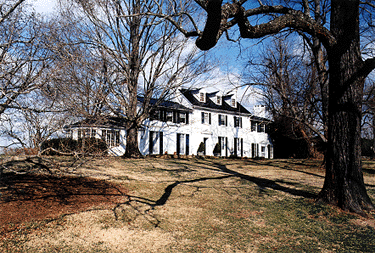 Main House

DONDORIC FARM's main residence faces to the southeast with views of the Virginia countryside. A portion of the house was built in 1829 for Frances Harrison Horner. In 1880, there were other substantial additions made when a frame living room and kitchen were added. Further changes were completed by the previous owners in the 1940's at which time the center hall with its flying staircase was constructed.

The House is stone and stucco with a metal roof. Floors throughout are wood and the paneled doors have brass hardware. The house has a large terrace across the southeast side onto which numerous rooms open. The lawn is graced by mature trees, flowering shrubs, stone walls, and gardens surrounded by American Boxwood. To the rear are cutting beds, and a vegetable garden.

ENTRY HALL: 12' x 19'. Double doors open to the living room, dining room and conservatory.

LIVING ROOM: 19' x 20' with an old mantle, a marble surround and hearth, built-in bookshelves and cupboards, and a double set of French doors to the front terrace. The floor is random width oak.

DINING ROOM: 16' x 17' with crown molding and chair rail, an old mantle with marble surround and hearth, hidden silver closet, a crystal chandelier and sconces which were from the family of Frances Scott Key. A mural of the surrounding countryside done in the 1940's decorate the walls above the chair rail..

LIBRARY: 16' x 17' with a large stone fireplace with brick hearth, pine paneling, built-in bookshelves and cupboards, a double door and French doors opening onto the front terrace, and a door to the back yard.

CONSERVATORY: 18' x 22' with a flagstone floor, a large stone fire-place, French doors opening to the southwest yard and onto the front lawn, built-in stone curved windows surrounding the room on three sides with stone window benches below and stone planters between, a beamed ceiling, and a ceiling fan.

FLOWER ROOM: 8' x 12' with windows on the south and southwest side and numerous shelves for plants

KITCHEN: 13' x 20' with an island.

BUTLER'S PANTRY: 7' x 14' with a double sink, and built-in glass front cupboards.

The house is four large rooms wide but only one room deep with deep set windows opposite each other and deep set doors. The house is of stone except for the wing, has a very large stone fireplace in the living room and hansome, hand carved mantels. in the dining room and the parlor.

In the lawn are boxwood bushes, old-fashoned shrubs and many huge old trees. One of the outstanding attractions of this old home is the avenue of beautiful maples which stretch in all their glory on either side of the half-mile of driveway between the house and the main road. There is an extended view from the house of the mountians from the Pignut to the Blue Ridge.